Client Testimonials
View This Must See Client Testimonial Video to Learn How Liz Can Help You With Selling or Buying Your Home.
Liz was exceptional. Prior to selecting her to sell our home, we interviewed 10 of the top producing realtors in Arizona and chose her for her professionalism and enthusiasm for our unique property. I watched our zillow views & saves daily to see how much visibility our listing was getting compared to other nearby listings in the same price range...and I was amazed that our home (listed at $1.2M+) consistently had six to ten times as many views and saves as other comparable properties. This resulted in an average of approx 10 showings per week for the duration of our process, and we received 4 offers before selecting the best cash buyer. She was on top of things the whole way, very accessible with texting/calls as we had questions or requests along the way. She was respectful of our concerns and what we felt our home was worth. She navigated the contract to close process flawlessly and set us up for success at each step. If I ever buy or sell a home in AZ again, we will 100% select Liz to represent us. Clint Carlos 5/16/2026 Sold a Home in Mesa- Zillow Review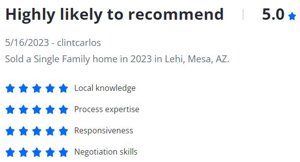 Liz is an amazing realtor! She took the time to listen to our needs, was always available around our crazy schedule to look at houses, and found us our perfect home. She understood the market, our budget, and was quick to put together an offer when we were ready, helping us secure our dream home. She made the home buying experience easy and fun! I would definitely recommend her! Sasha L. October 2022 Bought a Home in Phoenix, AZ-Google review
Liz is a wonderful realtor. She was helpful every step of the way and was a strong advocate for me. Definitely recommend! Marie Ridgeway October 2022 Bought a Condo in Scottsdale, AZ-Google review
There is a reason Liz consistently receives five star reviews, she's exceptional! We consider ourselves fortunate to have found such an accomplished professional. Call her and find out for yourself why she's the best! JL August 2022 Sold a home in Fountain Hills, AZ-Google review
Liz McDermott and her associates have been our Dream Team when it came to selling our house in Litchfield Park, AZ. We were living out of state and could not be in Arizona on a moments notice. But it never became an issue for us because our dream team handled it all. We were always updated on new developments and the sale went very smooth and hassle free. The best part was how kind and thoughtful Liz and her team were through the whole process. Thank you Liz and company! Sincerely, a very happy customer!!! Elaine Pierce June 2022 Sold a home in Litchfield Park, AZ-Google review
Once I found a home I fell in love with she instantly went to work on writing my offer up. I have never heard or seen from others have everything done so fast and so perfectly. She is by far amazing at what she does. You can tell she loves and takes pride in what she does. I would only recommend her to my family or friends, she's that amazing. My process with looking and buying a home was wonderful thanks to her. Krystina June 2022 Bought a home in Peoria, AZ-Google review
We first met Liz after inquiring about a new build on Zillow. She promptly called, texted, and emailed back. Her tenacious approach won us over as the clear winner to help find a home in AZ. She took the time upfront to learn about our home and location needs and quickly went to work. It's a little scary buying a home while living in OH. Liz provided sound advice on the neighborhoods and home conditions to put us at ease. After 90 days, her persistent nature paid off when she called a realtor about a contingent sale. The deal had fallen through! Liz drove there that day and recorded a video. Later that night, we made an offer and it was accepted the next day. At closing, she even drove to the home which is an hour away for her to make sure it was still in perfect condition. It's not easy buying a home right now and you need a winner like Liz McDermott to find your dream home. March 2022 Ed & Melissa Braunbeck Bought a home in Gilbert, AZ-Zillow review
Liz McDermott, and her team at Arizona Dream Home Properties (azdreamhomeproperties.com), just helped me close on my second home in a very challenging (for buyers) housing market North of Scottsdale AZ. I live out of state, and Liz and her team's experience, always being "on-call" professional work ethic, being happy to provide personal video tours, and being extremely responsive, made it possible for me to close this "remote" transaction! She is the best real estate with whom I have ever worked. I highly recommend her without reservations. March 2022 Hrs InBay- Bought a Home in AZ-Zillow review
We have worked with a number of real estate agents during our nearly 40 years of marriage. None have been more productive, professional, or pleasant than Liz McDermott. How productive was she? Our home was listed on April 5, we had multiple above-listed price offers, and final sale negotiations were completed by April 8; the closing was completely wrapped up within one month. Everything went incredibly smoothly, and we credit Liz because of how well she managed our project. It would have never happened so incredibly smoothly had it not been for the spectacular photography and videos at the front end that drummed up interest on the Internet and from motivated buyer agents who were more than willing to come to the table with above price offers. Thank you, Liz, for exceeding our expectations at every step in the process. May 2021 Greg Gilstrap: Sold a Home in Anthem Neighborhood-Google Review
Liz far exceeded our expectations in every way. From start to finish we could not have been more pleased. Liz presented us with a outstanding sales plan. She was both professional and courteous, while taking all the time we needed to answer all of our questions. We listed our house during the COVID outbreak, she made sure our home was properly photographed, (sending 3 different photographers) allowing prospective buyers to virtually tour our home before they ever came inside. Liz delivers on her promises. She told us about her marketing plan, and how she uses social media and online sites to reach more buyers. Our home was the most viewed property on line from the time she listed until it went under contract. When most listings were getting hundreds of views we were getting 1000's. Her plan paid off. We had 4 offers within 48 hours of listing. Settling on an offer above our asking price. The best part about working with Liz McDermott is, that is who you work with. She doesn't hand you off to an associate or assistant. She answer her phone, she responds to your emails or texts in minutes not hours. Liz is with you from start to finish, we had questions about some closing costs which we thought were high. She investigated the costs and got them reduced. She also helped us negotiate with the buyers to stay in the house after closing. She truly did go above and beyond our expectations. July 2020 John Krasnovsky: Sold a Home in Anthem Neighborhood-Google Review
Liz was simply amazing!!! Responsive, hard working, professional, committed, always available and totally dedicated to what we wanted. I can not say enough. If you want to purchase a home, choose Liz! You will not be disappointed!!! July 2020 David Block: Bought a Home in Scottsdale, AZ- Google Review
* A + Excellent * Liz was awesome from the beginning to the end of my home sale experience. Liz included professional staging and photography with her service. She employs the best staging & photography professionals. In addition, she quickly and efficiently guides you to any other needed professional resource. My home was under contract within days of going live. I received an offer for the full asking price and the sale went through without difficulty. What can I say, It couldn't have gone any better. I'm impressed and I believe you will be as well. 05/17/2019-homeworth1: Sold a Single Family home in 2019 in North Gateway, Phoenix, AZ.
Liz was great from beginning to end. She was always very friendly and cheerful, yet very professional and super effective. She was very patient when my wife and I asked to visit property after property - and back to re-visit earlier ones. When we found the perfect one, Liz negotiated hard, going back and forth with the seller until we got a very nice deal. Thanks to her, paperwork was a breeze all the way to closing. That could have been the end of it, but Liz is no ordinary realtor. After we moved in and started remodeling, she helped with suggestions and had her handy-man help us. Working with Liz was great and highly recommended. 03/26/2019-Zuser: Bought a Condo home in 2019 in Desert View, Scottsdale, AZ
Liz is absolutely amazing!!!!! I can't say enough about her, she went way above and beyond. She made a very trying situation so much easier by walking us through all the documents, staging the house and checking in with us at every step and we weren't even in the same country. She listed the house at a fair price and sold it within a week. Don't look any further for a different realtor, Liz is hands down the best I have ever dealt with. 02/19/2019- Holly: Sold a Single Family home in 2019 in Paradise Valley, Scottsdale, AZ.
Absolutely the BEST real estate experience ever. Liz is not only professional but she is detail oriented and full of energy. She gets results. I learned that the right realtor makes all the difference. Liz is the right realtor. 06/05/2018- JM Coffman: Sold a Single family home in 2018 for $650,000 in North Scottsdale, AZ 85266
Liz is a real professional who knows how to sell real estate. She is diligent, thoughtful and goes beyond what you expect. She is very responsive and stays on top of things throughout the process. She communicates regularly with useful information. We do not live in Arizona, but Liz made sure we were properly informed and consulted throughout. She took care of the big things and also the important little things like ensuring staging was done beautifully to her high standards. We got 100 percent of our asking price for our investment home and she sold it in just a few days! Very impressive! You will be very pleased with her personalized service. Best part is that you get Liz and not some junior realtor who may be part of a bigger sales team. Choose Liz and know your property is in good hands. 06/04/2018- Robert Avinoam: Sold a Single family home in 2018 for Full Price $299,000 in Cave Creek, AZ 85331
A+++. Liz is a Rock Star when it comes to selling real-estate. We had listed our condo with another realtor and it sat for nine months, with very little traffic. In less than 90 days, Liz sold our property near list price. She not only took the time to make solid recommendations to improve the overall look of our condo, but she leveraged her marketing skills and worked furiously to attract the right buyers. She is hands down a top realtor who knows the market. I highly recommend Liz without hesitation - you will not be disappointed.
01/06/2018- Keeg1: Sold a Toscana Desert Ridge Condo in 2017 in Phoenix, AZ 85054
Liz is a true professional. After listing our house to be sold with another realtor we took the home off the market after six months. Liz then sold the home at 98% of asking price within a matter of weeks. She helped us throughout the process and even came over to the house and watched our dogs while we were at work so people could view the house. She also helped us with negotiation on the purchase of another home and was very helpful in the negotiation and throughout the purchase process of the new home. My wife and I cannot say enough good things about Liz and her abilities in the Real Estate market. If you want the best give Liz a call you will not go wrong. Thank you Liz for all help.
5/20/2016- Joe & Nubia G.: Sold a Single family home in 2016 for $541,000 in North Scottsdale, AZ 85260 & Bought a Townhome in Scottsdale, 85250
Liz listed our home in North Phoenix and it sold within 2 weeks at 98% of our list price! At our first meeting, I loved her marketing strategies and plan!! The staging done prior to selling was key and the professional photos/virtual tour were unbelievably amazing!! Liz is so professional yet the most helpful, sweet, down to earth woman with every single step you can imagine. She was there for us through a crazy closing and kept in contact with me every few hours until it closed! When I think about the fact that I considered doing a For Sale By Owner instead of using a Realtor my mind is blown! Liz earned every penny she made and handled all the legal contracts, appointments, back and discussions involved during the sale with all the realtors to see the home, the buyers realtor, loan officer, Title company, photographer, inspection people, appraiser and I'm sure more people that I don't even know about!! I know that I chose the best person to sell my home! Liz also helped us find out new home which wasn't easy! She was patient, took the time to take us to many homes and helped us find the perfect home for our family!! We love the new house so much!! She's the BEST!! We are so impressed!! I plan to send my own 2 grown kids to work with her as they buyer their first homes. I know there are so many realtors but you won't be sorry if Liz Eichelberger is in your corner. She makes the sale happen!! Thank you so much Liz!!
9/13/2016 -Katie & John Whiltlow: Sold a Single family home in 2016 for $280,500 in North Phoenix, AZ
I contacted Liz about a property that she had listed and was immediately impressed by her professionalism and responsiveness to both my needs and timeline to purchase a home in my desired area. Liz took the time and interest in getting to know me as a client and always keeping my budget in mind; she worked around my work schedule and sent property's that would fit the parameters that I had. Liz and I worked together for almost two and half months she was with me every step of the way; always answering my questions and many emails during the process with great energy and always with a smile and encouragement. I would recommend Liz as an area expert and will use her again for my next home purchase in the Scottsdale area.
04/24/2016 - Lisette Janssen: Bought a Townhouse home in 2016 for $225K in North Scottsdale, Scottsdale, AZ.
We found Liz through the Zillow site for a property in Scottsdale. After meeting with her we were extremely impressed with her professional appearance and knowledge of the Arizona real estate market. We were a relocation from Southern California and she was always willing and available to work with us when we were in town. She negotiated an amazing deal on a beautiful short term rental for us which made our transition to a new state such a positive experience. We ultimately purchased our dream home which took almost five months due to the sale of our existing home and dealing with a seller whose house was overpriced. During that period we looked at many home in many areas and she always made us a priority. Liz followed through on every aspect of the purchase from recommending an inspector to referring us to an incredible escrow service. We love our wonderful lakefront home and are happy to now call Gilbert Arizona our home. We have Liz to thank for that!
01/18/2016 - Tracy Young: Bought a Single Family home in 2015 for $525K in Val Vista Lakes, Gilbert, AZ.
Liz is FABULOUS! Selecting Liz as my Realtor was the best decision I made when putting my home on the market in early November. She literally walked me through every step in the sale of my condo. We listed my condo at a very fair price in early November, Liz held two open houses, and in less that two weeks we had an offer in which Liz very successfully negotiated an acceptable price for both buyer and seller. Liz PROMPTLY returns all calls and responses to all emails. I know she will see me through closing set for early January. This is just what Liz does - unbelievable work ethics!
If you want and need a realtor present and actively working for you, Liz Eichelberger should be your choice.
12/12/2015 - Jan Stradley Sold a Condo in 2015 in North Scottsdale, Scottsdale, AZ.
To sum up our experience with Liz in one word: AMAZING! In fact, the only negative we've encountered was only being able to rate her 5 stars on this survey!
We just closed on our first home and are over the moon with our purchase - all thanks to Liz's quick thinking and skills. Liz has been outstanding from start to finish. She is focused, driven, timely, professional, dedicated, supportive, and has great energy that made this process less stressful and definitely fun! We feel like we've known Liz all our lives as she has treated us as if we were family – that's exactly what it felt like for us. Being first time homebuyers we had lots of questions and none were ever too stupid or silly for Liz. If she didn't have the answer she promptly got back to us with the answer when she found it.
We will definitely recommend Liz to our friends and family who may be buying or selling and would absolutely use Liz if we ever needed a realtor again. We have a lifelong friend in Liz – pretty awesome since we didn't know her before!
Thank you, Liz!! We so appreciate everything you have for us! You are AMAZING! :)
10/29/2015 - Maile and Sonny Kanana: Bought a Single Family home in 2015 for approximately $350K in Glendale, AZ.
We are lucky to have Liz as our realtor to purchase a house in Arizona. She is awesome in every aspect. She knows the area very well, and responds in time to our emails and phone calls, which is very important to us since we are physically located far from Arizona. Liz also helped us negotiate a good deal. With her help, the whole process of buying a house is smooth and pleasant. We highly recommend her to you especially if you are out of state from Arizona.
09/09/2015 - Youngha Chen: Bought a Single Family home in 2015 for approximately $325K in North Scottsdale, Scottsdale, AZ.
Friendly and yet tough in negotiations. Had many resources to assist us in decisions. Had roofer and termite contacts. We bought the home while we lived out of state so this was very helpful as a resource to have eyes and ears there
09/09/2015 - Kathie Propp: Bought a home in 2015 in North Scottsdale, Scottsdale, AZ 85255.
Liz is a real professional. She has the knowledge and drive to get the job done and she makes sure it is done right. Liz won't accept anything less than the best representation for your home.
It has been a while since I have sold a house and thank goodness I had someone like Liz on my side. I also realized during the process that I have not had particularly good representation in the past. She makes you realize what having a great agent can mean. It is very important because unless you are an expert on your state's rules and regulations, a homeowner could make a mistake that and that could be costly. I am so glad I had the good fortune to find Liz Eichelberger. I feel very lucky.
There are many realtors to choose from but not many have what it takes like Liz does. I fully recommend Liz for anyone looking for a smooth real estate sales experience.
05/23/2015 - Tracy Cole: Sold a Single Family home in 2015 for approximately $325K in North Scottsdale, Scottsdale, AZ.
Liz was amazing. She is very knowledgeable in her suggestions to get the best results from your sale or purchase. She is fast to respond and takes quick action upon your requests. We were very pleased with the outcome of our sale and would highly recommend Liz for your listing or to find your new purchase.
04/29/2015 - Joanne and Al Halverson Homebuilder Christal Homes: Sold a Multiple Occupancy home in 2015 in Scottsdale, AZ
Liz works tirelessly, communicates very well and listens to her clients. A+ with everything she did on our behalf. We definitely would recommend Liz and use her again to acquire property in Scottsdale AZ area. You will not be disappointed with her services. Examples include:
Weekly conference calls
Regular e-mail correspondence
She spent an entire day showing properties to us
She has tremendous connections with lender, banks, property management companies and others that she was able to share with us.
All in all, A+ experience
04/26/2015 - Clay Johnson: Sold a Condo in 2015 for approximately $250K in North Scottsdale, Scottsdale, AZ.
Very friendly and reliable. Very helpful in going through the process of buying a new home. Always returned phone calls in a prompt manner. Always had your best interest in mind. Knows the area real well and worked around your schedule.
04/04/2015 - Marty Boner: Sold a home in 2015.
Liz is phenomenal at what she does. We met Liz on a Wednesday and by Saturday same week we found our new home. Liz is on point and example of what every realtor strives to emulate.
02/16/2015 - Rob DeAngelo: Bought a Single Family home in 2014 for approximately $300K in Bridges at Gilbert, Gilbert, AZ.
Liz helped us find just the right property to rent in a very competitive market. She not only helped locate the property, she was instrumental in getting us settled in by conducting the final walk-thru with the home owner. She has been very responsive and a joy to work with!
12/15/2014 - Valory Covello: Helped me rent a home.
Liz bent over backward to help us through the process. She is extremely responsive and helpful. In fact, we bought our home from out of state, and Liz went above and beyond to make it easy for us, including acting on our behalf for the home inspection, service provider calls, etc. She also took us to see dozens of homes before finding the perfect one -- with a smile on her face the entire time. She is invested for the long haul.
09/11/2014 - Dan and Barbara Graovac: Bought a home in 2014 in Desert View, Phoenix, AZ 85331.
Liz was very professional and friendly I felt very comfortable. she did everything I asked of her. she worked very hard to sell my house. her personality is amazing. she is so down to earth, And her sense of humor is out of this world i never laughed so much. she is the best.
08/25/2014 - Brannon Mascarenas: Sold a Single Family home in 2014 for approximately $400K in North Scottsdale, Scottsdale, AZ.
CALL LIZ & THIS IS WHY.
Buying or selling a home could be scary or the most exciting experience one could have. I've had the opportunity to work with various Realtors in the past but working with Liz Eichelberger I must say was the most pleasant, exciting, rewarding and smoothest experience of all.
Whether you're buying or selling a home you want the job done right and quick. "CALL LIZ".
Her professionalism, area knowledge, dependability, her expertise on all levels from start to finish she handles it all.
I truly felt Liz was working for me and had my best interest at heart.I couldn't be happier in my dream home. If you want the best you call the best "LIZ".
Best Regards,
Tisha
05/22/2014 - Tisha
Bought a Single Family home in 2014 for approximately $350K in Paradise Valley, Scottsdale, AZ.
My experience went really well with Liz. I am so glad I chose her as my real estate agent. Being a first time home buyer, she made this process painless, and at the same time kept me in the loop. She knows all the areas ( I wasn't sure where I wanted to go) and what would be best for me location and price wise. If you are looking for your 1st home or your 10th home, she's really a wonderful person to work with. You wont be disappointed!
03/20/2014 - Jill Madden
Bought a Townhouse home in 2014 for approximately $125K in Paradise Valley, Phoenix, AZ.
Six weeks ago Liz help me sell my home amazing she's very professional punctual and definitely delivers high-end customer service. She sold the house in three days and to top it off it was sold at 98% of the asking price. I just wanted to say thank you Liz for an amazing job and helping me move into my future thank you again so much.
09/22/2013 - Susan Lasala Nurse Practitioner
Sold a home in 2013 in Finley Farms, Gilbert, AZ 85296.
Liz has done a great job for me during my home purchase. She was able to provide me with updates and many home options when they became available on the market. Liz was able to negotiate to the price that I was happy with. I will be recommending Liz to my family and friends.
06/11/2013 - Kyle Rawlings
Bought a Multi Family home in 2013 for approximately $225K in North Scottsdale, Scottsdale, AZ.
I used Liz, again, but this time to sell my house. We sold it in 13 days and at 98% of the asking price! The negotiation process was super smooth and, like before, Liz was extremely responsive to my questions and concerns. Thanks Liz for being an outstanding agent and helping me once again! Highly Recommended! The review below is from 2012 when she helped me buy my house.
Liz was monumental in helping me find my first home. She listened to my needs so carefully that I actually ended up buying the very first home that we looked at. We then beat out six other offers through her persistence, negotiation, and rapport building skills. Whenever I had a question she was always right there, and made the entire process very enjoyable. I would recommend Liz to anyone who was looking to buy or sell their home. Thank you Liz for helping me to find my dream home.
12/19/2012 - Matin Ghafuri PharmD.
Bought a home in 2013 in Desert View, Phoenix, AZ 85331 and also helped me rent a Single Family home in Scottsdale, AZ.